Repairs and Restoration
Antique Carpet Repairs by Hand In-House
Alterations Reweaving Binding Serging
Oriental Carpet Repairs in Dallas
The Ancient Art of Rug Repairs & Restoration
Providing quality service by professional antique rug experts on Oriental rug repair and restoration of antique rugs in Dallas. The reason for repairing valuable antique rugs is to restore the original beauty possibly damaged by years of use or improper storage conditions. Repairing Oriental rugs and restoring antique rugs is an ancient art form. Restoration is a labor-intensive process requiring impeccable craftsmanship as it entails years of patience and artistry to master the ancient art or Oriental rug restoration and repair. It requires an extraordinary talent for recreating patterns and matching colors. Our professional weavers have a genuine passion and dedication to preserving your irreplaceable work of art.
Professional Oriental Rug Repair and Restoration Process Overview
Finding the right type and color yarn to be used for the restoration or repair
Knowing which area and how to protect the surrounding areas around the damage
Reconstructing all of the damaged or missing warp
Reknotting the pile and reconstructing damaged or missing motifs
Weaving the weft to tighten knots and reconstructing damaged or missing motifs
Binding the selvedges to prevent the edges of the rug from fraying or unravelling
Reconstructing and binding the rug fringes to prevent unravelling
The most typical Oriental rug repairs are made to the ends and edges of the carpet. Rugs placed in high traffic areas and rugs exposed to shoes will eventually start to show wear. It is necessary to rotate area rugs to lengthen their life. The repeated movements of heavy furniture distends the rug's foundation causing tears at the stress points. Never place a flower pot directly on your antique rug. As the carpet absorbs water, dry rot develops and the wool fibers become brittle and break from continuous exposure to moisture. Moths like to hide in dark areas under skirted furniture. With their penchant for wool, moths will chew through the rug's foundation if left unchecked.
Reasons for Rug Restoration
Binding worn out
Dry rot
Fringe worn out or reattach loose rug fringe
Holes and/or torn areas
Moth damage
Pet Damage (Dog Chewing, Cat Scratching)
Pile wear
Selvedge wear
We are dedicated to providing our clients with honest information so they make informed decisions on caring for and preserving their rugs. Our staff provides free assessments of antique rugs in need of repair or restoration. During rug assessment, we offer detailed explanations of the repair and restoration options available. Our clients and customers return again and again, trusting us with their Oriental rugs. Please contact us by filling out this form or stop by our antique rug gallery for a free estimate.
Main factors to consider when repairing your Oriental or antique rug:

What is the market value of my rug?
What is the cost to repair my rug?
What is the market value of my repair rug?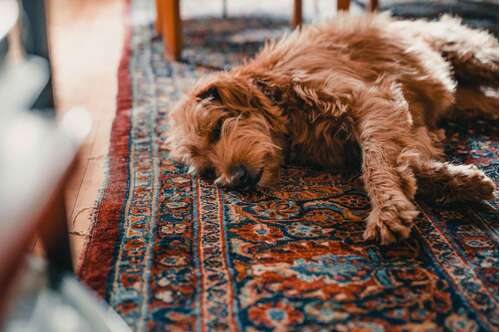 Many of our customers ask, "Can I own a nice rug if I have pets?" The answer is, "Yes!"
Providing quality service by professional antique rug experts on Oriental rug repair and restoration of antique rugs in Dallas.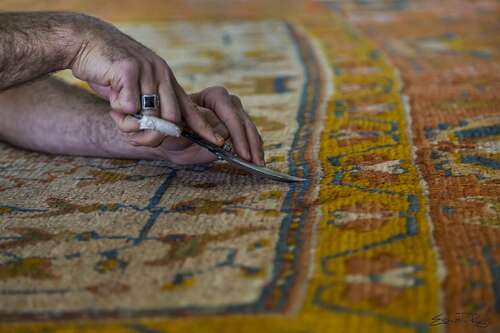 Esmaili Rugs has the best information on restoring antique rugs. Keep your antique rug looking its best with our antique rug restoration process.