Know When to Restore ​an Antique Rug
Repair Antique Rugs Restoration in Dallas
Dallas Repair Oriental Rug Restoration
---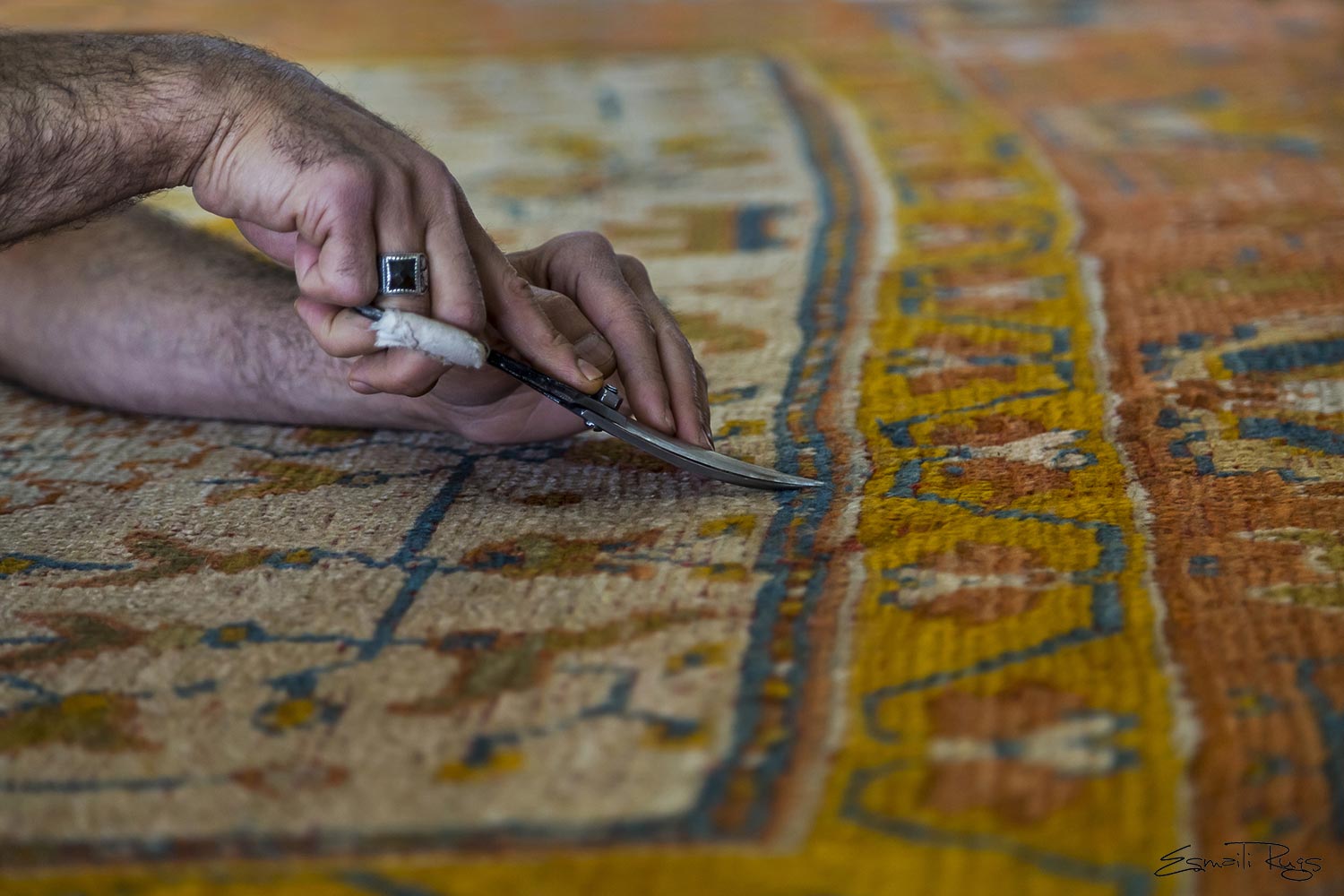 How Do You Know When to Restore an Antique Rug?
Just like centuries-old, fine oil paintings, antique rugs also suffer from the ravages of time. While a Rembrandt or Monet often develops a yellowish, dulling layer of dirt and oxidation after years of being displayed in museums, antique rugs experience signs of deterioration that are, fortunately, reversible.
At Esmaili's Rugs & Antiques, restoring an antique rug is just one of our many specialties supported by the experience and knowledge we have accumulated over the past three decades. Our antique rug restoration experts consider each rug a valuable, precious work of art, deserving of the most professional rug-cleaning techniques available in the industry. In addition, we provide every client with superior service from the time we pick up your rug until you've got your restored rug safely back in your possession.
Reasons antique rugs need restoration include:
Fringe surrounding the carpet is loose, missing fringes, worn out or dull in color
Rug binding presents signs of wear and tear
Dry rot, moth damage or torn/holey areas are compromising the rug's integrity
Animal damage – signs of chewing, scratching or worn spots
Pile wear, such as flattening or stiffness
Visually examining your antique rug by spreading the rug's pile apart often reveals unseen deposits of debris abrading the carpet's foundation. Look carefully for dirt particles at the base of the knots as well as along the weft and warp. Since typical rug-cleaning methods will not remove such deeply embedded dirt, we use harmonic vibration equipment to clean your antique rug safely and effectively.
Dry rot frequently affects older textiles made of cellulosic fibers like cotton, jute or flax. It is a slow but progressive weakening and deterioration of antique rug fibers that can cause irreversible damage unless professionally restored. Dry rot occurs over time when the rug has remained subjected to moisture without being allowed to dry out completely.
Antique Rug Repair and Restoration Overview
Natural fibers used to weave antique rugs exhibit remarkable properties that require special restoration and cleaning procedures implemented by true professionals. Esmaili's rug restoration team begins addressing each rug's unique needs by:
Finding the right yarn type and color for restoring or repairing antique rugs
Knowing how to protect areas surrounding the damage
Reconstructing all the damaged or missing warp
Reknotting the pile and reconstructing damaged or missing motifs
Weaving the weft to tighten knots and reconstructing damaged or missing motifs
Binding the selvedges to prevent the edges of the rug from fraying or unraveling
Reconstructing and binding the rug fringes to prevent unraveling. We are dedicated to providing you with the best information possible so you can make informed decisions about restoring an antique rug. We offer free assessments of antique rugs needing repair, cleaning and/or restoration. Our rug assessments include detailed explanations of repair and restoration options available, as well as free pricing estimates. To continue enjoying the beauty of your antique rugs for many years to come, please contact us today by calling 214-651-7847.