Antique & Vintage Distressed Rugs Collection
Esmaili's distressed rugs online collection includes delightfully chic, elegantly vintage Mahal, Sivas, Tabriz, Kerman, Sultanabad and Oushak rugs to fully realize any shabby chic design style. Distressed rugs blend seamlessly with equally distressed interiors, period-based décor, minimalist and ultra-modern ambiances. The shabby chic style originated in Britain several hundred years ago when wealthy people discovered the mesmerizing charm of country house decorations — worn chintz sofas, faded curtains and older paintwork. Artisans and bohemians embraced the distressed look and helped popularize shabby chic by deeming distressed items as works of art.
First used by World of Interiors magazine in the mid-1980s, the interesting phrase shabby chic quickly made its way to the ears of US interior designers who began utilizing both vintage distressed and modern distressed rugs. Metropolitan cultural hubs such as New York and Brooklyn, San Francisco and Los Angeles venerated this warmly eclectic style of decorating and eventually incorporated Mediterranean influences and created the ultimate shabby chic environment.
Shop Modern Industrial Style Distressed Rugs in Dallas
Invulnerable to the dozens of superficial decorating trends inundating each decade, Esmaili's distressed rugs collection offers breathtakingly handcrafted rugs from around the world, illuminating their own ageless style and eternal sumptuousness. Warmly inviting with traditional patterns delineated by neutral hues from subtle browns, rustic reds, gray tones, and beige hues, our antique distressed rugs showcase versatility and understated luxury. Weathered striations and design elements found in vintage distressed rugs add visual interest and texture. Esmaili Rug's distressed rugs set the mood for an industrial rustic, chic luxury interior.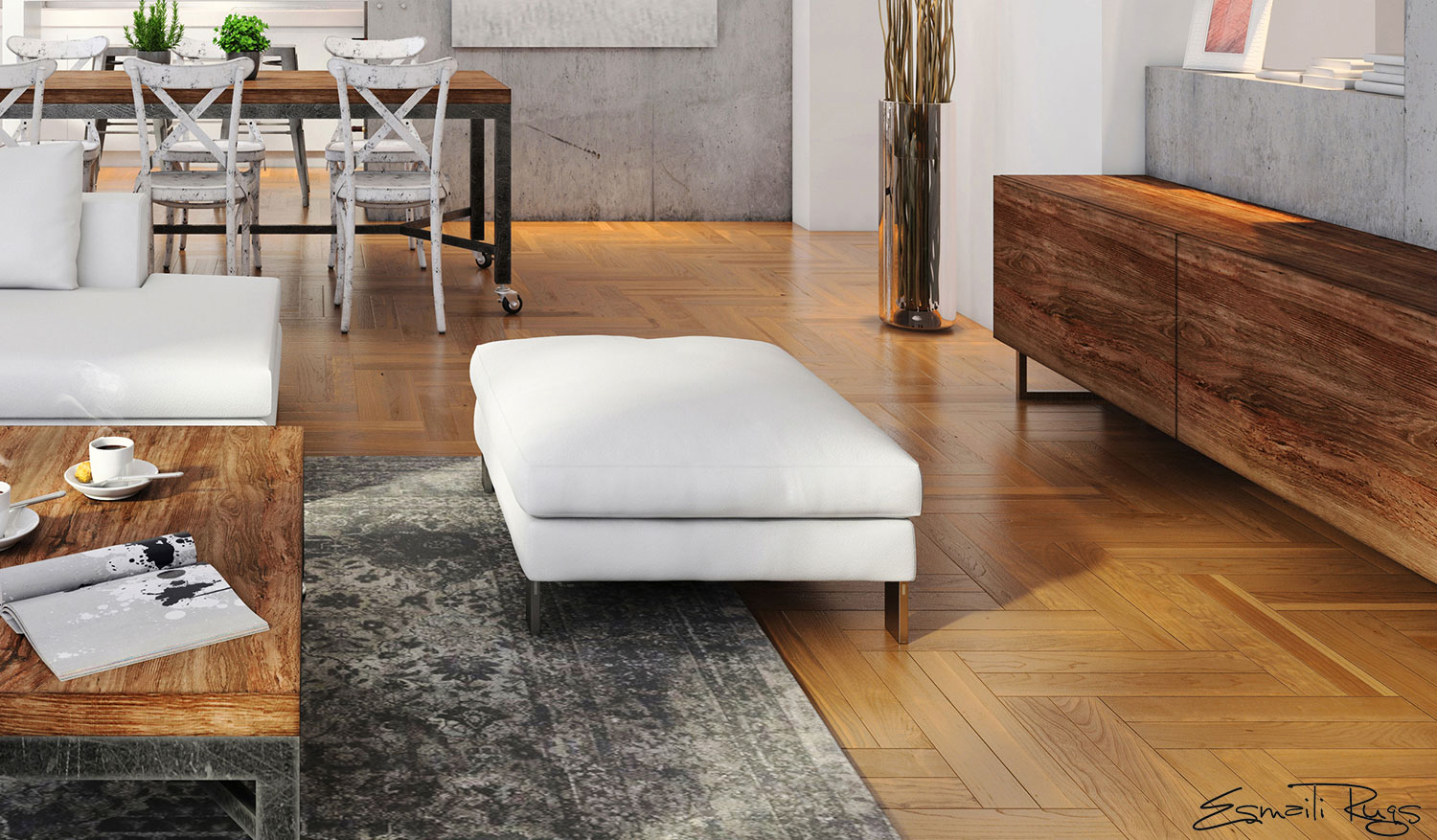 From bricks and stone to steel and raw, Industrial Design can leave you feeling exposed. Add some texture and warmth to your industrial space! Usually referred to as Industrial Style or Modern Industrial rugs, distressed rugs blend seamlessly with Industrial Style decor featuring celebrations of functionality, shabby chic "wear and tear", and the beauty of naturally aged colors.
Get A New Look with Our Distressed Rugs Collection
Iconic in styling, our distressed rugs collection is well-suited for a wide range of interior styles: Modern Industrial, Rustic Coastal, English country cottage, shabby chic, bucolic Mediterranean chateaus, Tuscan villas, Spanish Haciendas, and Italian farmhouses. Bespeaking age and history, antique distressed rugs are the perfect complement to interiors with similar richness and rustic vibes including natural wood furnished chalets, estates, cottages, and mountainside abodes as found in Colorado, Lake Tahoe, or the Adirondacks.

Rustic Chalets & Estates
Mountainside Abodes
Urban Industrial Lofts of NYC
High Rises
Luxury Warehouse Apartments
Modern Urban Homes
Downtown Offices & Industrial Workspaces
Grand Millennial Cottage
Hamptons Style Interiors
Coastal Beach House
Farmhouse Style (Belgian, Flemish, Swedish)
French Country Shabby Chic & More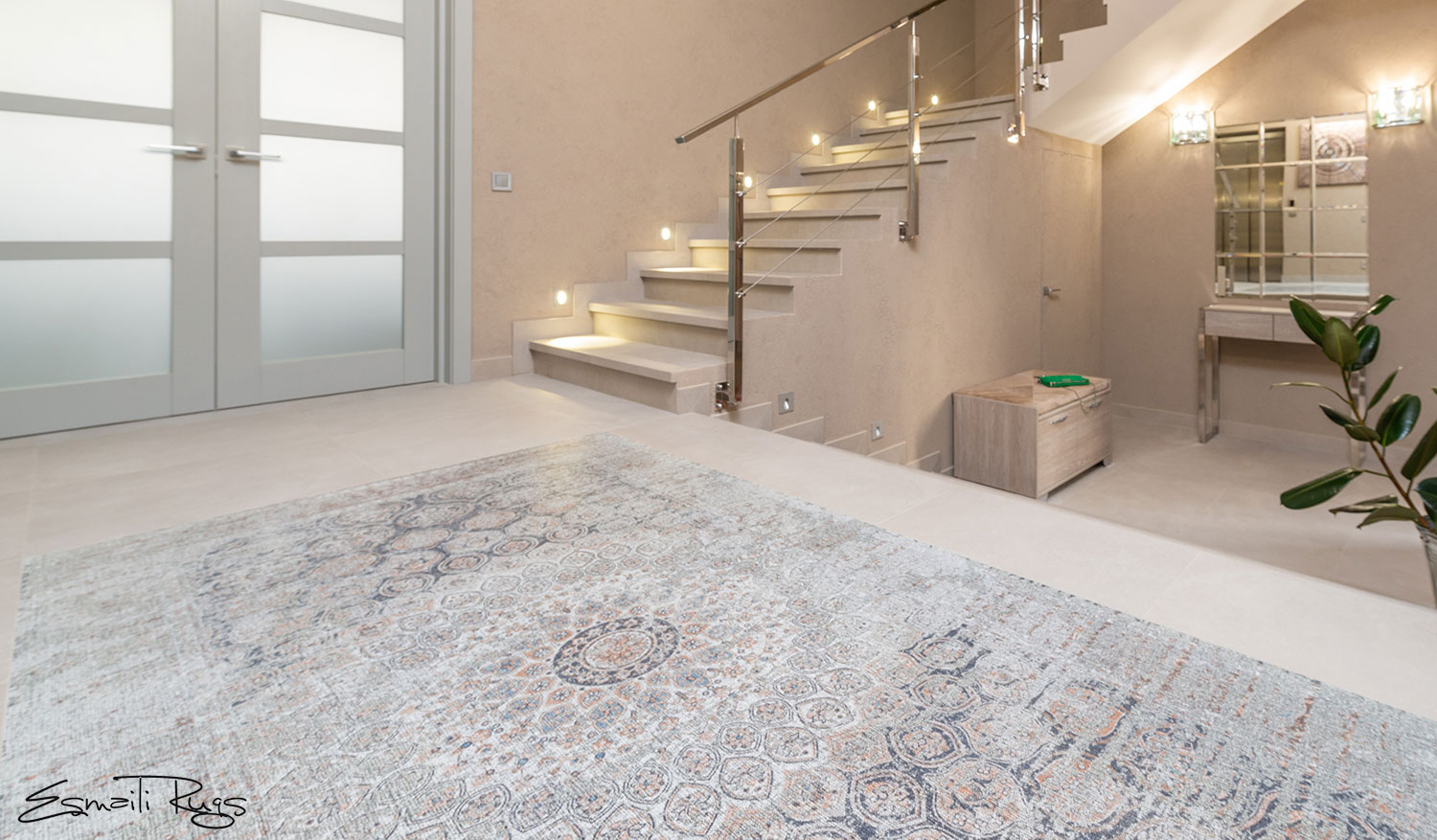 For over 20 years, Esmaili Rugs & Antiques has been happily serving clients in the Dallas-Fort Worth Metroplex and Dallas Design District. Even if you don't live nearby, you can browse our distressed rugs collection on our website and make a purchase online. If you have any questions, please call us at 214-651-7847 today to learn more about distressed rugs, vintage rugs and the other services we offer.