Pets Love Rugs Too
Cats & Dogs Love Wool Rugs
---
Many of our customers ask, "Can I own a nice rug if I have pets?" The answer is, "Yes!" Cats and dogs love rugs and carpets. Pets LOVE natural fibers. It isn't that your pets don't understand the cost of your handmade wool rug—it's that pets are naturally drawn to the smell of wool. Pets really love the smell of wool and it activates our furry friends' natural instinct to roll on them ensuring that their scent is left as well. Just as you love the feel of wool under your feet – these pictures of pets thank you for this wonderful experience as well.

We like how rugs make everything a bit more comfortable, warmer and nicer. It's especially nice for pets who are compelled to just collapse impulsively despite several cozy (and desolate) pet beds nearby. Check out these pets loving on their owner's rugs.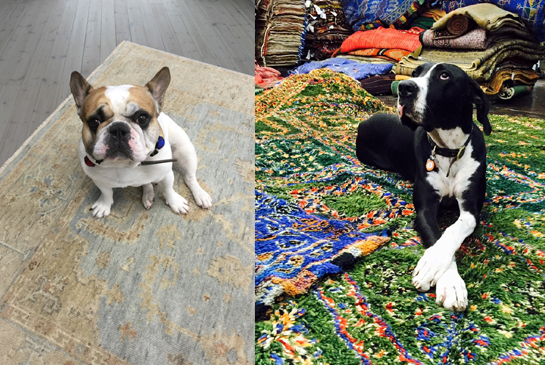 Meet Hugo the Frenchie, Michelle Nussbaumer's assistant: Tallulah the Great Dane and Scout (below).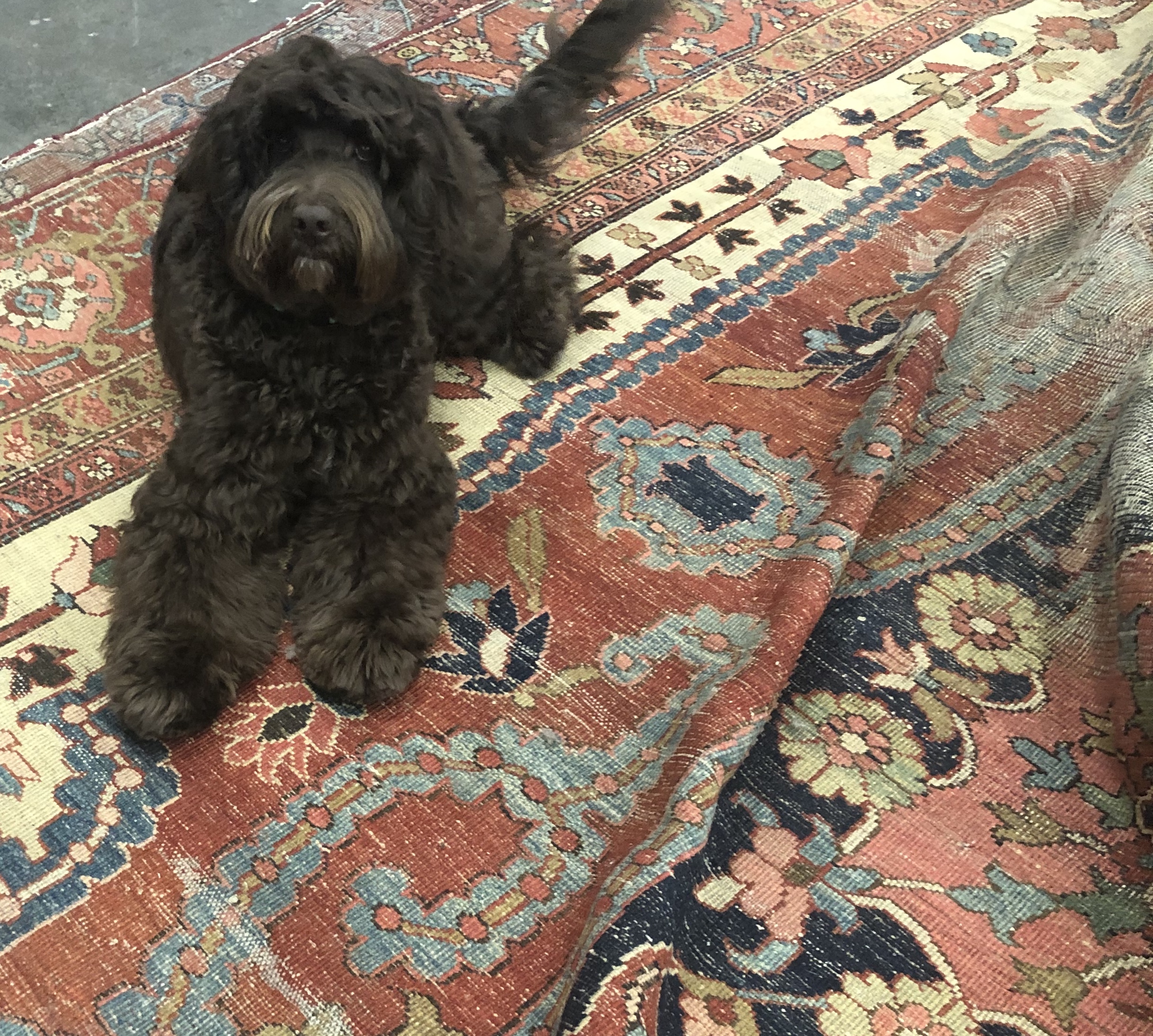 Sometimes we have visitors who insist on helping with the rug selection; their opinions matter!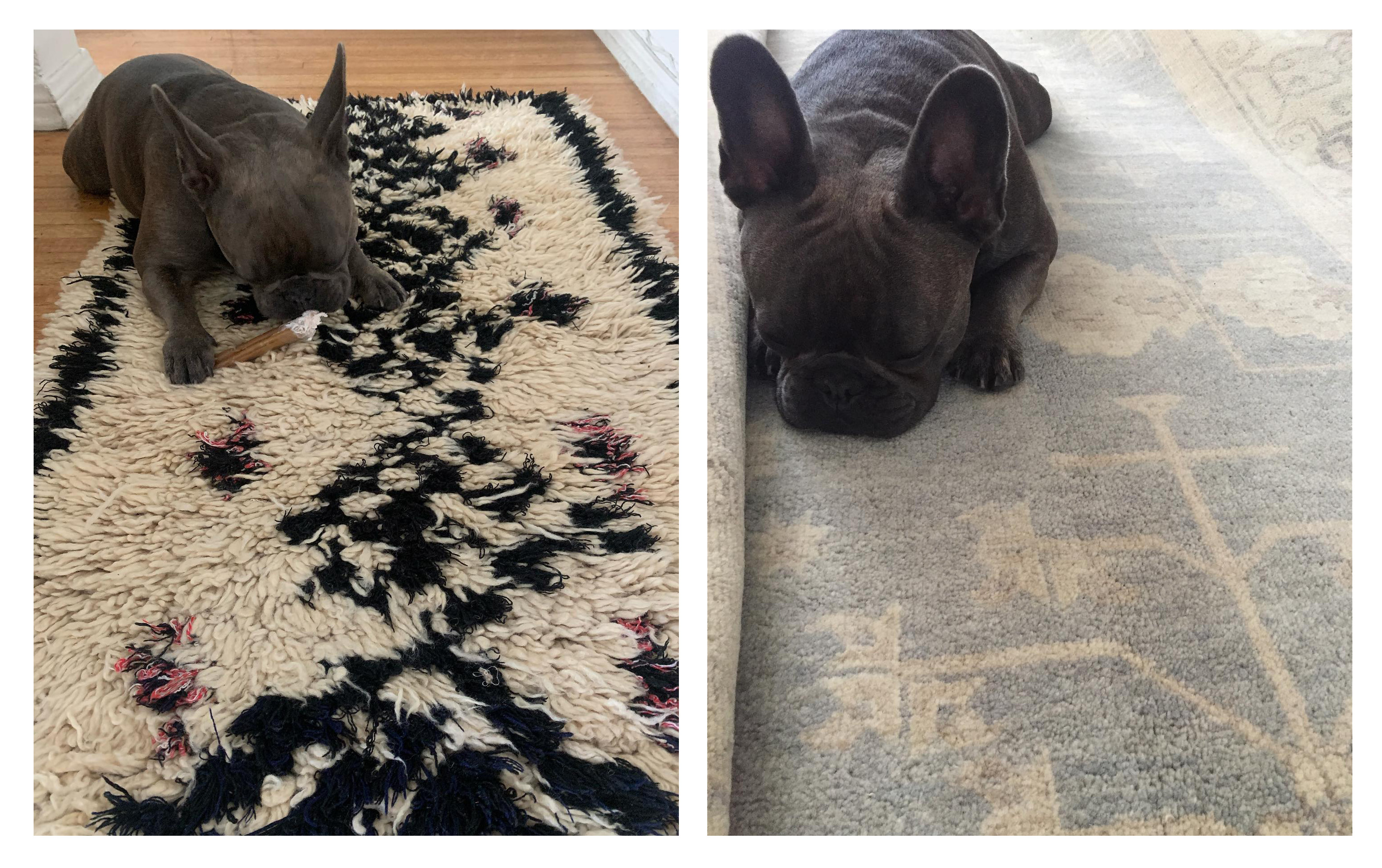 Oh the choices...Vintage Berber Moroccan Rug or Transitional Khotan Rug? Ruff Life!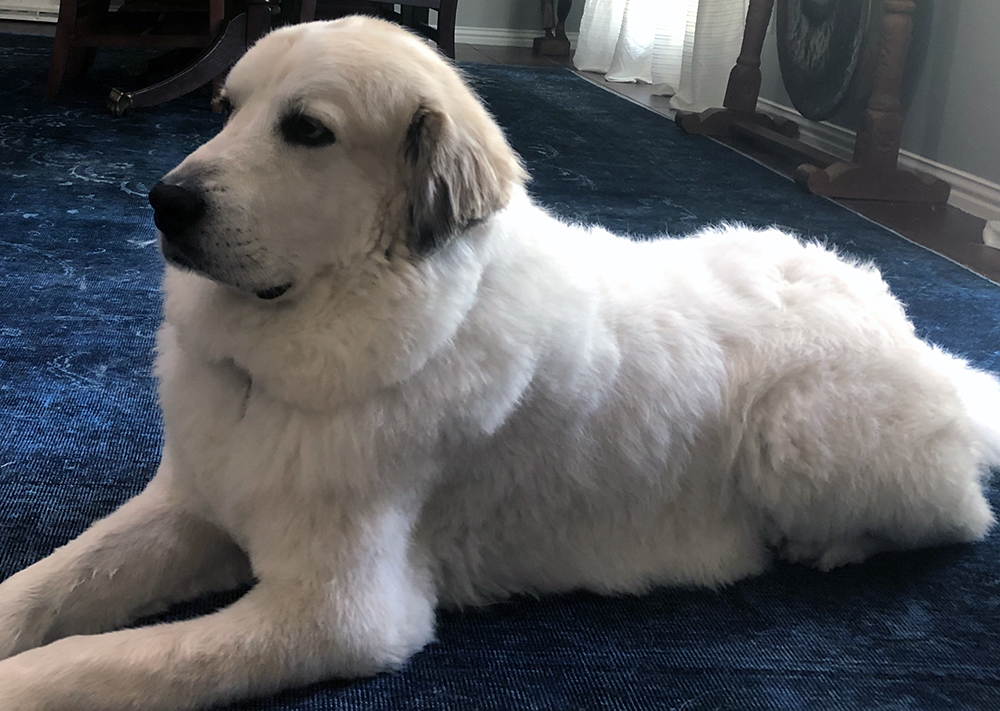 Opulent Overdyed Rugs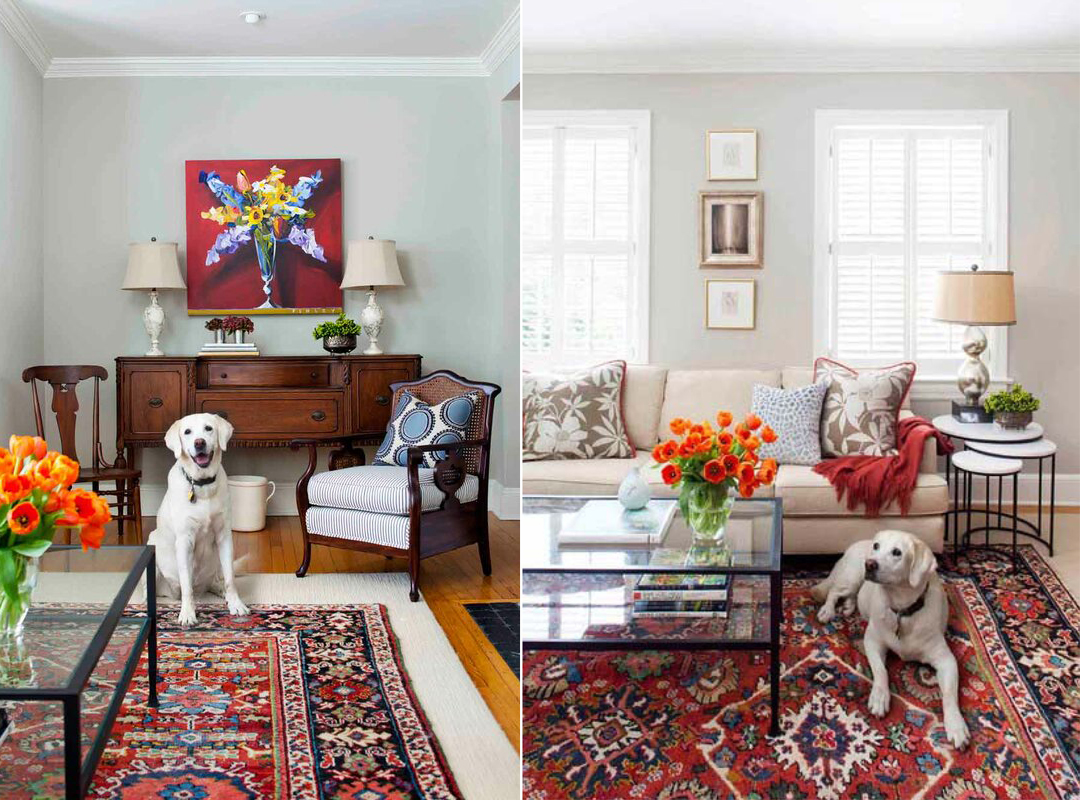 PHOTO BY: Jeff Herr | Terracotta Design Build, Vidal Living Room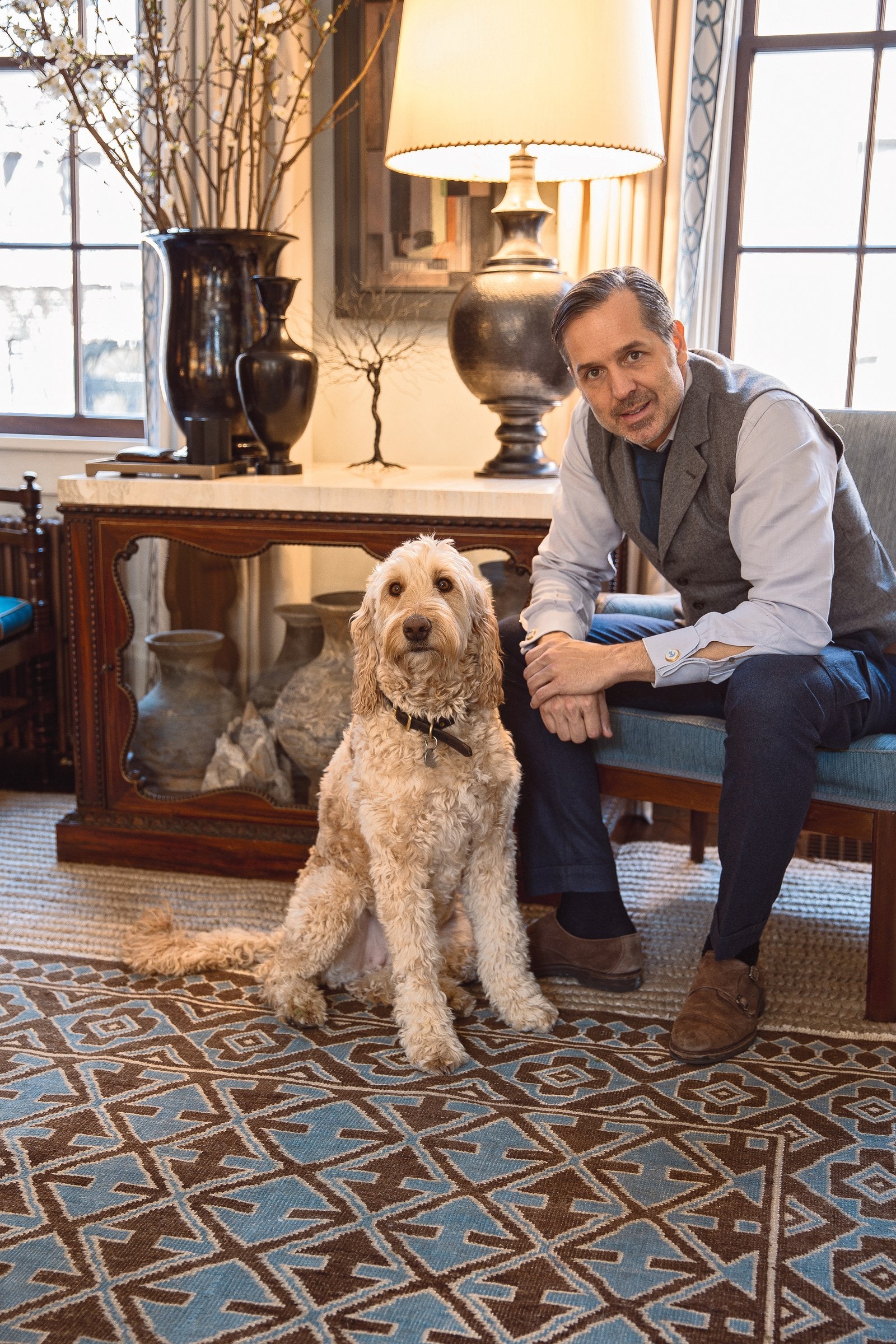 PHOTO BY: Stacey Bewkes | Steven Gambrel with his dog, Sailor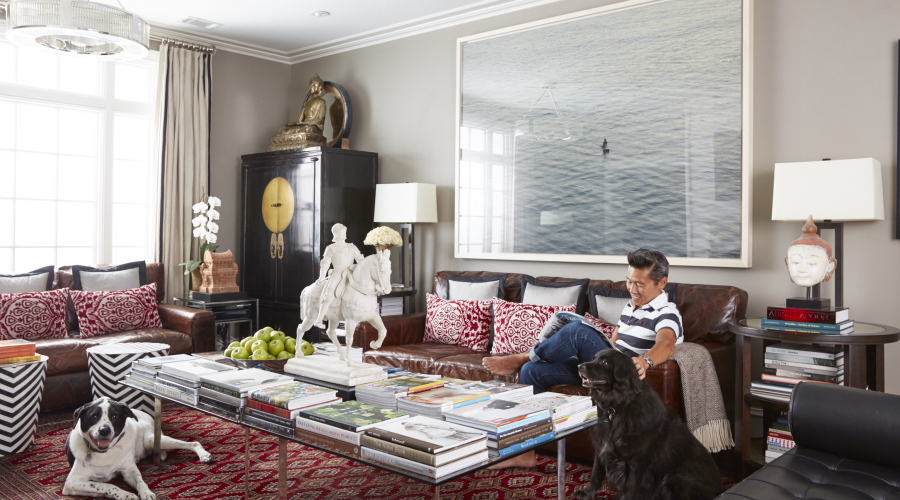 Interior Designer: David A. Land/Vern Yip via AP

Esmaili Rugs & Antiques also offers pick-up & delivery providing rug cleaning & restoration services. Call us at (214) 651-RUGS (7847) or email us at info@esmailirugs.com to schedule your appointment.

Berlin really liked the rug. PHOTO BY: Dog Shaming
For over thirty years Esmaili Rugs and Antiques, Inc. has offered clients an unsurpassed selection of exquisite, handmade Oriental rugs from around the world. With such a large selection of vintage and antique rugs, we pride ourselves in being one of the leading importers of fine rugs in the Dallas and Fort Worth Metroplex. We are constantly filling our showroom with new rug shipments. Currently, we stock over 4,500 rugs. Whether you are looking for antique rugs, vintage rugs, new rugs, carpet and stair runners or tapestries, you can be assured that you will find it here. We are one of Dallas' "hidden treasures" and you will definitely want to check it out!
Services Provided
For more information on antique rugs Dallas please browse our website and feel free to contact us with any questions.