Antique Persian Rugs in Dallas

With timeless appeal effortless beauty, Esmaili's antique Persian rug collection is the Dallas preferred rug resource for residential interiors, hospitality and hotel design for the DFW Metroplex. Our signature rug assortment—over 7,000 pieces readily available—is highly curated and represents many styles, including Persian, Turkish, Moroccan, and Chinese Art Deco, as well as nearly every major weaving center in the world. Shop high-quality Persian rugs for today's modern interiors. If you're not in the Dallas area, distance is not a problem. Our one-stop DFW rug shop offers global shipping.
The Best Antique Persian Rugs in Dallas
Afshar
Bakshaish, Bakhshaysh
Bijar
Farahan
Gabbeh
Heriz, Serapi
Isfahan, Esfahan
Kashan, Mohtasham
Kerman, Kirman
Khorassan, Mashhad
Persian Kilims
Malayer
Sarouk
Senneh
Sultanabad, Mahal and Tabriz
Enjoy Dallas' Persian Rugs Collection in the Design District

Our antique Persian rug selection accommodates hard to find sizes and a broad range of price points, making it DFW metroplex's premier gallery. We believe no decorating element is more perennial and yet entirely on-trend than the Persian rug. Dallas interior designers love styling with antique carpets rugs because they are versatile, durable, and better for the earth! Learn why buying rugs from Esmaili is an eco-friendly decision. Decorate your Dallas home with an antique Persian carpet from Esmaili Rugs!
Create a Classic Look in Unexpected Places with Persian Carpets
You can't go wrong with these traditional Persian rugs, no matter the style of your home. When shopping for the perfect Persian carpet, there are endless color and pattern options. Antique carpets from Persia offer both incredible history and beautiful design, and at Esmaili Rugs, we've got a great selection to help create a focal point. Persian rugs are made up of a layout and a design which in may include one or a number of motifs varying from:
Historic monuments and Islamic buildings
Shah Abbassi
Spirals
All-over
Tree of Life
Weeping Willows and Cypress Trees
Garden of Paradise
Hunting
Florals
Vase of Immortality
Mihrab
Geometric
Tribal and composites
Whether vintage or antique, Persian rugs can truly anchor a room and provide a dose of warmth and polish to nearly any space. Persian carpets are beautiful, iconic and intentionally ambiguous; and if properly maintained, they may last for generations. Esoteric symbolism imbues the geometric images, exquisitely depicted blooms and precisely shaded colors distinguishing antique Persian rugs from all other collectable rugs. According to ancient beliefs, symbolic motifs protected owners of handmade Persian rugs from misfortune, evil and strife. Tribal designs involving people, indigenous animals, symmetrical shapes and objects used in everyday life classically exemplify the adage of life imitating art and art imitating life.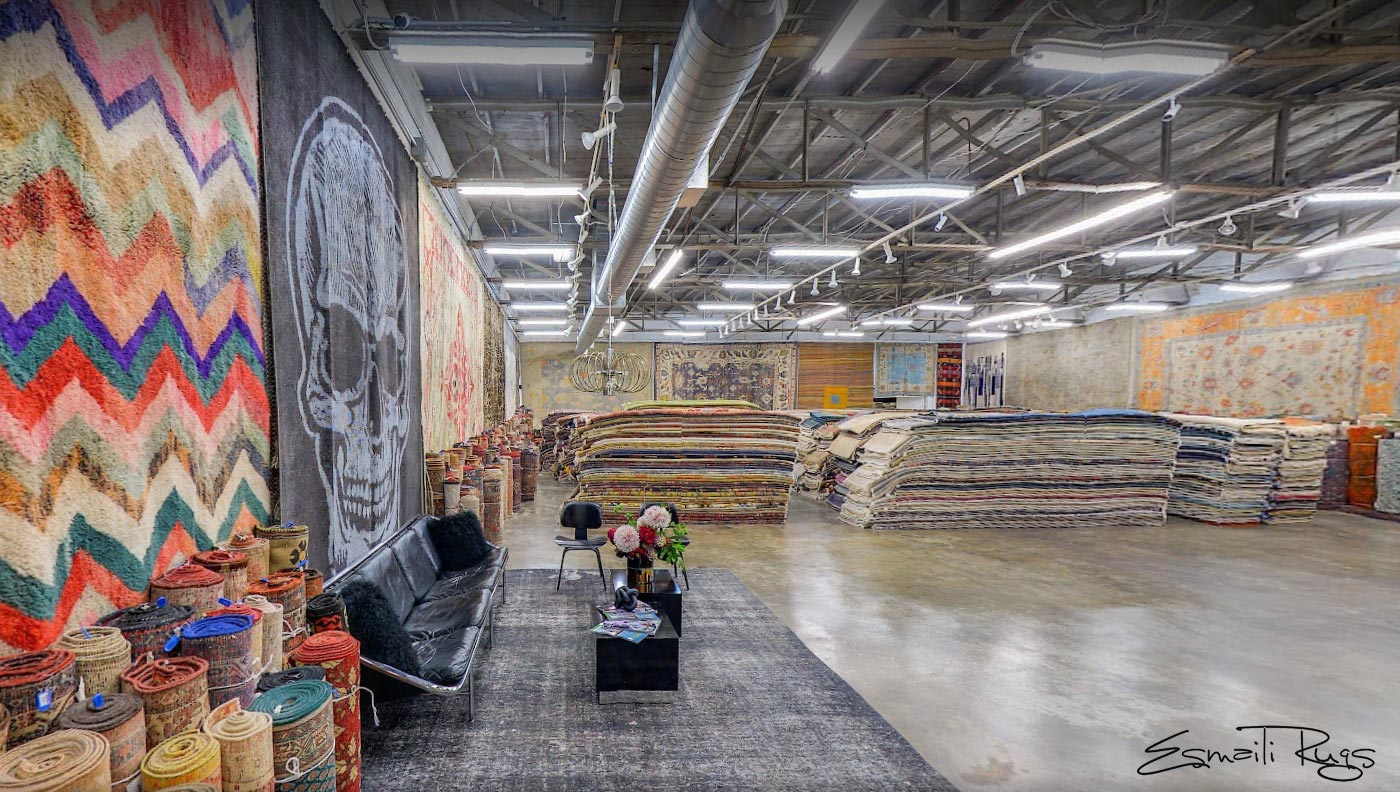 Esmaili Rugs Trade Program: Residential | Commercial | Hospitality Design
Whether you are designing an entire hotel, restaurant, home or a single room, we are here to help no matter the project size. To enjoy the exclusive benefits of our trade program, we need to verify that you're a licensed professional. Do you have a design project you would like to discuss with us? We'd love to hear from you!
Let's Collaborate!
Previous Rug Projects Include:
Kelly Wearstler Proper Hotels
Soho House / Soho Works
Hotel Chelsea
Sally Breer
Sara Beltrán
Michelle Nussbaumer
Meredith Ellis
Emily Henderson HGTV
More Design Projects Coming Soon!