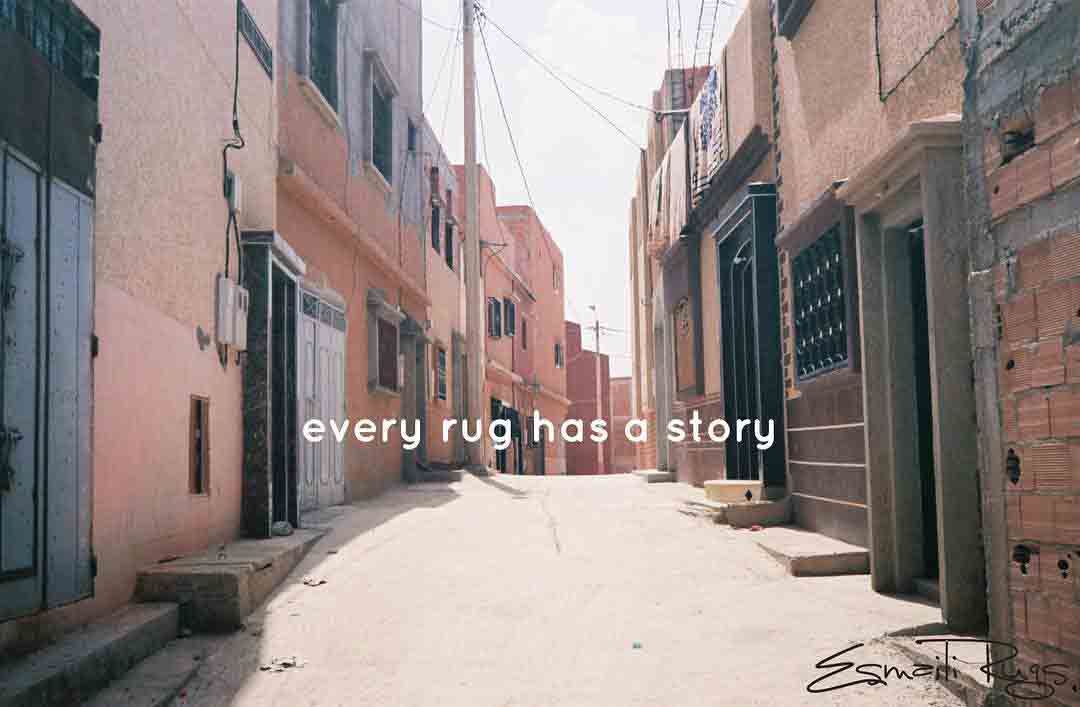 Moroccan Rugs Collection in Dallas

Esmaili Rugs in Dallas has an iconic Moroccan Rugs Collection including: vintage Berber, modern style, tone-on-tone, and groundbreaking color combinations. Join us as we transport your mind to the winding streets of Chefchaouen to the the souks in Marrakech with our Moroccan Rugs Collection. With Esmaili, you can shop our souk without the haggling. If you're not in the DFW Metroplex, distance is not a problem. Our one-stop Dallas rug shop offers global shipping.
Discover Authentic Moroccan Rugs & Berber Carpets
Azilal
Flat-woven Kilim
Beni Ourain (Beni Ouarain)
Beni M'Guild
Beni Mrirt
Rehamna
Boujad
Ait Bou Ichaouen
Talsint
Boucherouite (Rag Rugs)
Handira Wedding Rugs & More
During the mid-20th century, Moroccan carpets and Berber rugs adopted a more sophisticated, beautifully effortless composition that infused some of the elements popular with the Mid-Century Modern movement. Famous interior designers loved the simplicity and the softly plush feel of these rugs and started assimilating them into a variety of interiors, from homes to large business buildings to art and history museums. At Esmaili Rugs & Antiques, we invite you to browse our exclusive selection of the most dazzling Moroccan rugs you'll ever find. Shop a variety Moroccan rug styles: Mid-Century Modern, Bauhaus, Minimalist, Tribal, Bohemian Abstract Expressionist, and more.

Classic Beni Ourain Rugs for Modern Interiors
Woven by members of several Berber tribes living in the Moroccan Atlas Mountains, Beni Ourain rugs are made with top-grade wool taken from sheep raised and herded by the Berbers. Since each tribe prefers certain colors, Beni Ourain rugs can often be traced back to a particular tribe. Natural dyes used in coloring wool include indigo, henna and cochineal. Berber women incorporate elements into their rugs reflecting daily life experiences, such as rural scenes, religious beliefs, birth, femininity, animals and natural flora and fauna.

Moroccan Rugs Tell a Story— They Are More About Berber Symbolism
Lacking a written language, ancient Berber weavers incorporated ancestral myths into their textiles using archaic images and symbols. Berber tribes living hundreds of thousands of years ago are considered by some anthropologists to represent a last pristine link to distant human origins. While living in complete isolation, Berber tribes took the time to preserve their cultural personality by weaving stories and ideas into their textiles for generation after generation.
Even today, we recognize and understand these images simply because they summarize all our lives: birth, death and the distinct roles of men and women in society. The hints of dyes that make their way into the rug's motifs and fringes have their own tale to tell. In Berber Culture, colors carry meaning and vary from hues of blue, red, orange, yellow and green to beige, ivory, and earth-tone.

red symbolizes strength and protection
blue symbolizes wisdom
yellow represents eternity
green stands for peace
The term "Infinite Rapport" describes traditional Berber symbolism and indicates the extension of patterns enhanced by the passion of the art that goes beyond physical borders. Berber rugs clearly reveal pattern shifts that are meant to reflect the interruption and meaning of life events. In addition, Berber women rug weavers believed their creations were inhabited by some kind of spirit, either their own or perhaps the living spirit of the wool they used. Finished rugs during this time of pure Berber culture were considered prized possessions of the family. Learn more on our Moroccan Rug Symbolism blog post.
Have A Question? You Can Connect with Our Support Team by phone at (214) 651-7847 or Schedule an In-Store Appointment at 1511 Dragon Street in the Dallas Design District. Mr. Esmaili Enjoys Clients Not Pressed For Time, Love Persian Tea, and Delve Into the Rug's History.